CORPORATE & SOCIAL RESPONSIBILITY
AGL Corporate Sustainability is organized around social considerations. The key areas of focus are Health and Education. With that in mind, AGL aims to contribute towards the Millennium Development Goals.
Donating fund to school
We are supporting communities school students to pay their fees and inside infrastructure development .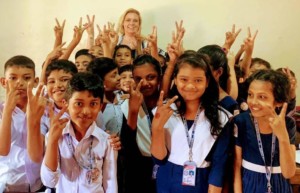 We are trying to to help our nearby poor schools student's to pay thier monthly fees and study essential equipments . Every year we are planning to add more schools students under our donations programs .Thanks to our partners who are helping us to donate our school programs.
Employment of physical disabled person
AGL creates opportunities of employment for the persons with disabilities
AGL creates opportunities of employment for the persons with disabilities
We AGL treat every staffs and workers are special by their own activities . We are training them specifically which specific work they can do . Currently we have many workers those are working our factory since last 15 years .
Tree plantation program
• Regular launching of Tree plantation program to reduce Carbon-di-oxide to save our nature and have a target to plant 1 million new tree on next 1 year.
Plant a tree and plant a hope for future.
When we plant a tree, we are doing what we can to make our planet a more wholesome and happier dwelling-place for those who come after us if not for ourselves."
— Oliver Wendell Holmes
"To exist as a nation, to prosper as a state, to live as a people, we must have trees."
― Theodore Roosevelt
AGL core values can help ensure each of our employees, from top leadership to entry-level, are working towards the same common goal, and share a bigger purpose.
Constantly Strive for Quality